Gosia Reade, LME
Master Medical Esthetician
Specialties
Men's, Women's and Adolescent Skincare
Education
Master's Degree:
Doctoral Degree:
Undergraduate Degree:
Technical Degree:
DELOUX Aesthetic Académie—San Francisco, CA
Certification: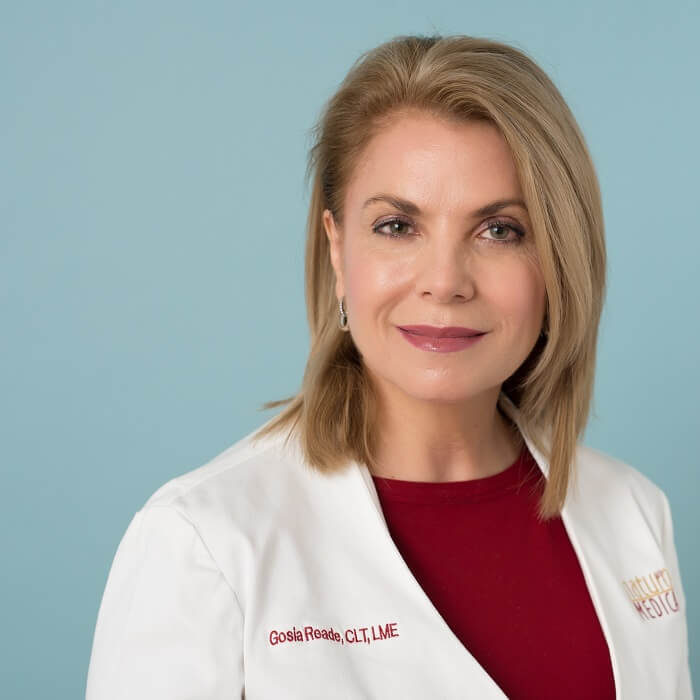 Biography
Background
Gosia Reade is a Licensed Master Esthetician and Clinical Skin Care Specialist. Gosia was born in Warsaw, Poland where she grew up an only child who enjoyed sailing, skiing, soccer and basketball. Gosia has always been a nurturer and was a born pet lover who was often involved in pet rescues.
Education
As a teenager Gosia experienced overactive skin firsthand. She was driven to educate herself on how to improve her personal appearance and to understand the underlying causes of skin conditions. After seeing improvements in her own skin, she was drawn to esthetics by the idea that she could make anyone feel as beautiful on the outside as they felt on the inside. Seeking a life with more opportunity, Gosia emigrated to the United Sates in her early twenties. When Gosia moved to the United States she attended DELOUX Aesthetic Académie in San Francisco where she graduated with the highest honors. Gosia started her professional journey by opening and operating European Skin Care Clinic in Los Gatos, California. Gosia eventually joined a dermatology practice in Northern California as their Medical Aesthetician.
Gosia moved to Washington in 2013 to be closer to her son and his expanding family. After arriving, she founded DermaSolutions by Gosia. She received additional training during this time and received her Master Aesthetic certification from the Washington Laser Institute where she studied aesthetic lasers.
Gosia became familiar with NaturoMedica though both her own personal experience and that of her clients. She joined NaturoMedica because of her goal to integrate overall wellness and skincare. Recognizing that radiant skin is achieved through proper professional care, nutrition, hydration, exercise and hormone balancing, she chose collaborate with the NaturoMedica physicians. Gosia prides herself on developing individually designed treatment programs that give her patients' skin optimal results.
Offering both cosmetic and aesthetic treatments for any type of skin, Gosia specializes in corrective skin care. She is on the cutting edge of technology and has mastered the art of skin rejuvenating treatments with the use of HYDRAFACIALS MD, Microdermabrasion, Intraceuticals treatments, Microcurrent, all variations of degree of chemical peels, acne treatments, LED light and Oxygen Therapies. Gosia has continued to pursue advanced esthetic training and holds certifications from Glytone/Avène Pierre Fabre Laboratories Medical to perform anti-aging chemical peels and is certified by The Edge System Company to perform HydraFacial MD procedures.
Hobbies
Gosia and her husband reside in the Issaquah Highlands. She walks the talk by leading a healthy lifestyle eating an organic diet and working out the gym regularly. She is passionate about Barre3 and attends class daily. Outside of the clinic, she enjoys reading and spending time with family and friends.